mouse over to magnify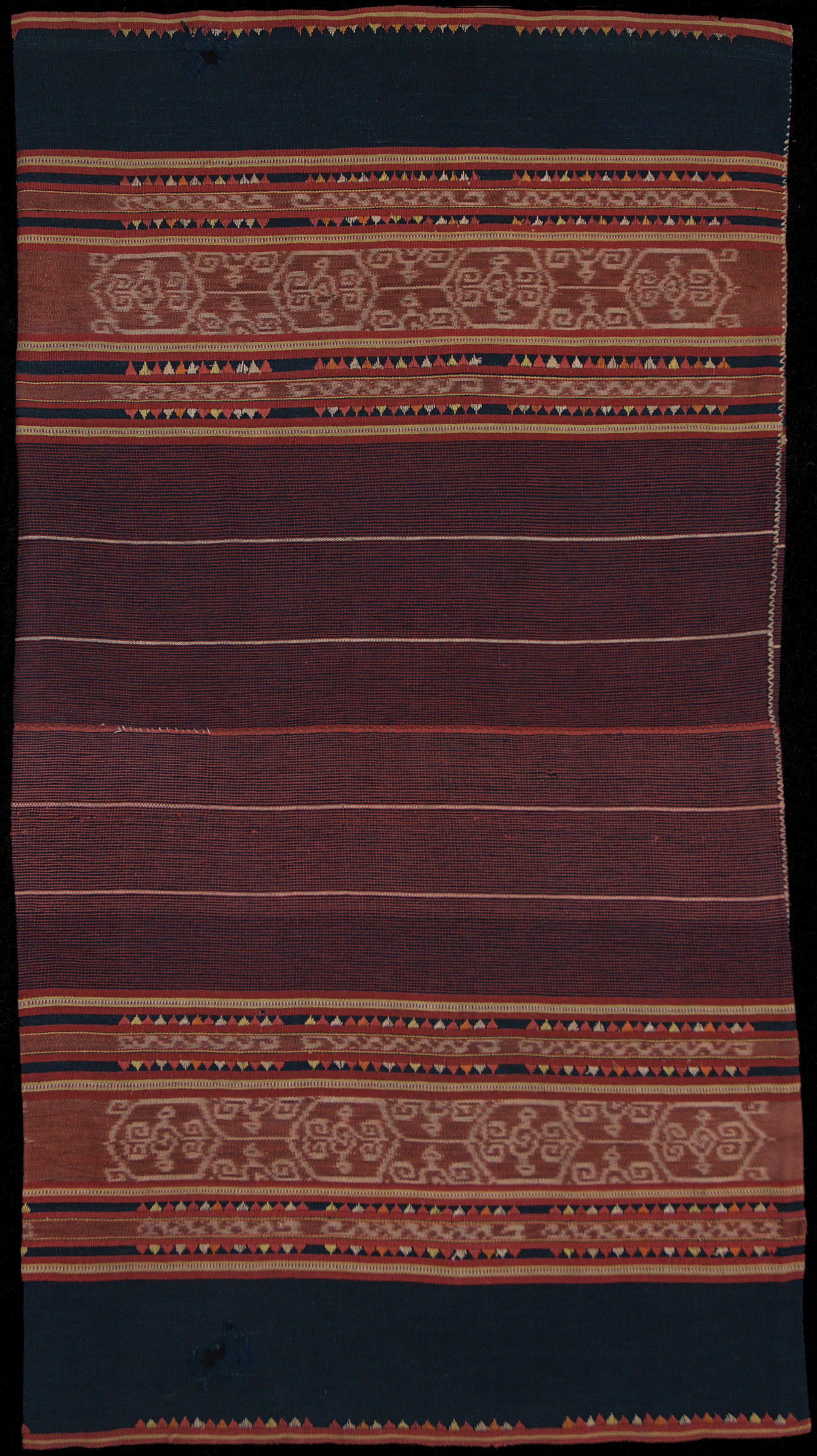 288 Moluccas, Babar




Sarong




---

Origin:
Moluccas, Babar
Period:
Early 20th c.
Panels:
2
Design:
Two wide ikated bands with linked octagonal motifs bordered by two narrower bands with a snaking pattern, probably indeed representing snakes - against which they afford protection. The linked octagons belong to the Babar repertoire, as do the rows of triangles in discontinuous supplementary weft executed in commercial cotton. On nearby Tanimbar such triangles are reserved for the nobility; on Babar they appear to carry no specific honorific association. The midfield is subtly striped with alternating indigo and red pinstripes, two threads wide, which give it an overall purplish tone. The ikat was done in a warm brick red morinda, making the motifs stand out in the natural ecru of undyed cotton.
Size:
64 x 117 cm (25.1 x 46 in)
Weight:
550 g (367 g/m2)
Yarn:
Cotton, hand-spun, medium - plus triangles in commercial cotton
Comment:
Sarong with the bold patterns that are normally reserved for the highest social class. While the rows of triangles are part of both the Tanimbar and the Babar repertoire, and the finely striped midfield is normally associated with Tanimbar, the motifs are typically Babar. Variations on the main motif are seen on field photographs that Nico de Jonge took on Marsela and Wetan in the Babars. As Toos van Dijk pointed out, the framing of the main motifs - in this case octogonal - is seen on other old cloths from Babar in the Rautenstrauch Joest collection, as is the main motif itself. Marianne van Vuuren also believes Babar to be more likely than Tanimbar as place of origin. Cloth is in very good condition for its age, apart from holes that a mouse nibbled into the plain indigo bands. Two more tiny holes due to wear on reverse side. Fortunately the ikated areas are fully intact.
Background:
Additional information in chapters on Moluccas and Babar.
Compare:
268
Literature:
Main motif very similar to sarong from Marsela dated 1913 photographed at the Rautenstrauch Joest Museum during a depot visit in 2015, done in coarser yarn (mixture of lontar and cotton) and in browns only, possibly mineral, Nr. 36243. Motif, as pointed out by Nico de Jonge, is similar to that of a sarong from Wetan, Babar Islands, collected by Müller-Wismar, now also in the Rautenstrauch-Joest Museum, Nr. 36260. Also similar to that on a sarong worn by the third woman from the left on group photo from 1913 shown in De Jonge and Van Dijk, Forgotten Islands of Indonesia, Photograph 8.6. There is a close similarity, both in design and applied techniques, to PC 268, tentatively placed on Wetar. Similar motifs are seen on some ikat from Biboki on nearby Timor, vide PC 176, which is inspired by a rare type of patola.

Below, the Babar sarong in depot of RJM with same main motif, same snakes:





©Peter ten Hoopen, 2018
All rights reserved.