mouse over to magnify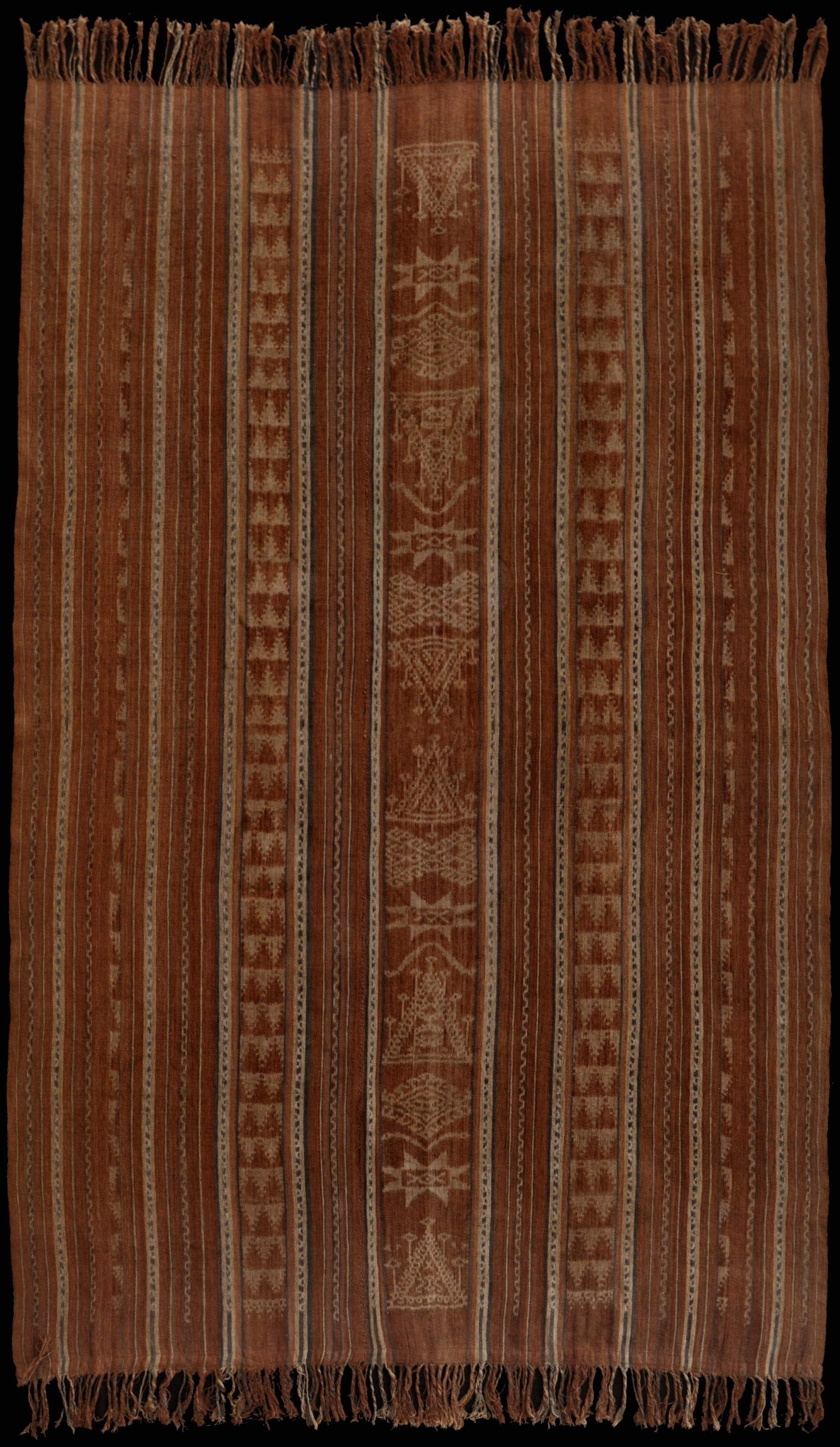 200 Moluccas, Kisar




Selimut (shawl)




---

Origin:
Moluccas, Kisar
Period:
19th c. or early 20th c.
Panels:
2
Design:
Significance of the main motifs, filled-in triangles with paddle-like projections, was long in doubt, but joint efforts by a number of collectors have turned up several varieties from Lembata (see PC 047, 048), the Lio district of Flores, and a few other weaving areas, which make clear that the motif is derived from a drawing of a sailing vessel - with only the rigging shown, and the hull left out. Depiction of boats - often stylized beyond immediate recognition - is widespread in the archipelago, and linked to myths of origin, describing immigration (sometimes specifically flight) from overseas. Also contains the eight-pointed star that is shared with Lembata, Timor, Savu and several other islands, and the scalene triangles that on Tanimbar are called 'flags'.
Size:
118 x 203 cm (46.4 x 79.9 in)
Weight:
835 g (349 g/m2)
Yarn:
Cotton, hand-spun, medium
Comment:
Early men's shawl with richly detailed motifs with few true cognates. Probably made by one of the last mestizo weavers on the island. Oddly, the two panels are not identical: the panel on the right contains the main ikated band, the one on the left is substantially narrower. The cloth was made as one of a pair, its twin being in the hands of another collector on the other side of the world. The discovery of the twin is a minor miracle, as the odds against the two pieces ever being matched after having drifted apart are astronomical. It also proves that some Kisar cloths, like East Sumba hinggi, were made in pairs, a fact not previously known. Third motif from the extremities is similar to kaif motif on Timor beti PC 002.
Background:
Additional information in chapters on Moluccas and Kisar.
Compare:
047 048
Literature:
Similar in overall lay-out and colouration with dominant rust red to Kisar man's shawl from around 1920 in Khan Majlis's contribution to Völger and Von Welck, Indonesian Textiles, Fig. 197. The lozenge motifs are also similar. They are also similar to those on a Kisar hita, belt, from around 1900 in the Rautenstrauch-Joest Museum, Inv, Nr. 36586, depicted in Khan Majlis, Indonesische Textilien, Wege zu Goettern und Ahnen, Fig. 489. Also similar to two old Kisar belts in Tropenmuseum, Nr. TM-1772-1194 and TM-1772-1195. Rather similar to selimut in Maluku Museum, the Hague, OB10076, which has the same tonality, is also asymmetric, but has two main ikated bands, one on each panel. See boat motif on Lio cloth from collection Kay Mertens shown below.





©Peter ten Hoopen, 2018
All rights reserved.