mouse over to magnify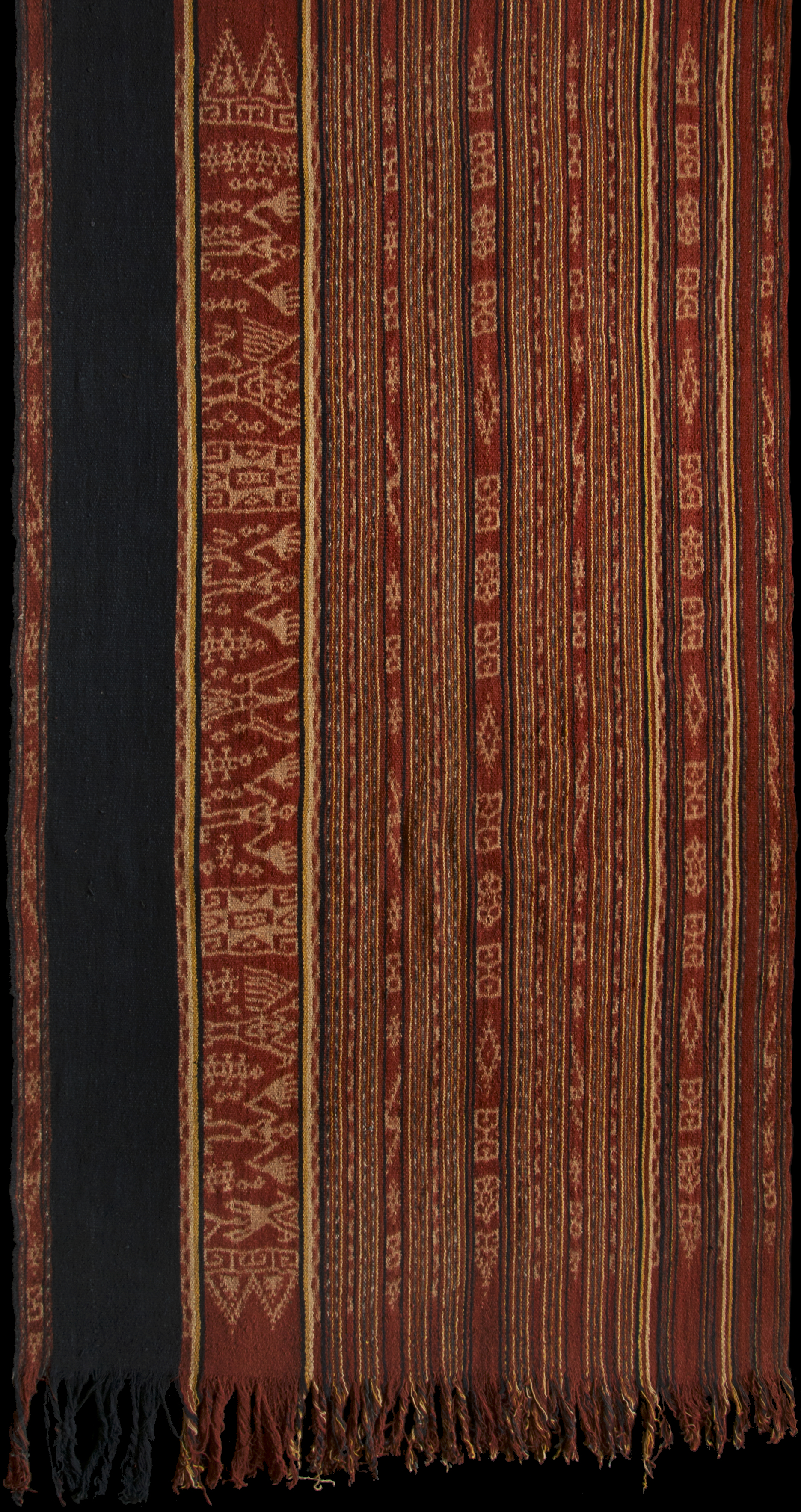 281 Moluccas, Kisar




Unidentified type




---

Origin:
Moluccas, Kisar
Period:
First half 20th c.
Panels:
1
Design:
Numerous ikated bands and stripes, the widest decorated with the rimanu pattern, the exclusive prerogative of the island's aristocracy, which in this case includes what is presumed to be an eagle. The male figures with raised hands have five digits (the range running from three to five). Tumpal finials are base-mounted, a hallmark of the southern Moluccas. Another hallmark is the double eagle, here next to the tumpal, which emulates European heraldry as seen on coins - most likely the Maria Theresien Thaler of the Austrian-Hungarian empire, a widely accepted currency in intercontinental trade since the 18th c.
Size:
75 x 280 cm (29.5 x 110.2 in)
Yarn:
Cotton, hand-spun, medium
Comment:
Cloth of unidentified type shown folded over, half of it visible. It has the classic design of sarong in the pictorial style, but is twice the required length, and may well have been intended as men's shawl. Heavy cloth with a rustic feel. Warm, saturared tones. Lay away. Immaculate condition. Probably older than it seems as it is all done in hand spun and all natural dyes, whereas commercial yarn and chemical dyes for use in pinstripes arrived in the South Moluccas early in the 20th C, soon becoming part of the local weaving idiom. Its traditional manufacture lends it great charm, in addition to its strong presence. It has a very expressive character, which is usually associated with older rather than younger cloth. Ex collection J.B. Lüth.
Background:
Additional information in chapters on Moluccas and Kisar.
Published:
Brigitte Khan Majlis, Woven Messages
Compare:
101 102 103 134
Literature:
Depicted in Brigitte Khan Majlis, Woven Messages, fIg. 310. Very similar to undated but probably early example in Rijksmuseum Volkenkunde, Nr. RV-2747-3. Also similar to pre-1940 example in Tropenmuseum collection, Nr. TM-1772-1199, but with morinda rather than indigo tone. Similar to much younger cloth erroneously identified as sinune in Museum Siwalima, Ambon, Cat. no. 1202 (SW 0365), depicted in Kuhn-Saptodewo c.s., Maluku, Fig. 116 and 117, made largely with chemical dyes. Similar to cloth in Wenthold, Nusantara, p. 184/185. Below, Habsburg double eagle on Austrian 1869 silver coin.





©Peter ten Hoopen, 2018
All rights reserved.