mouse over to magnify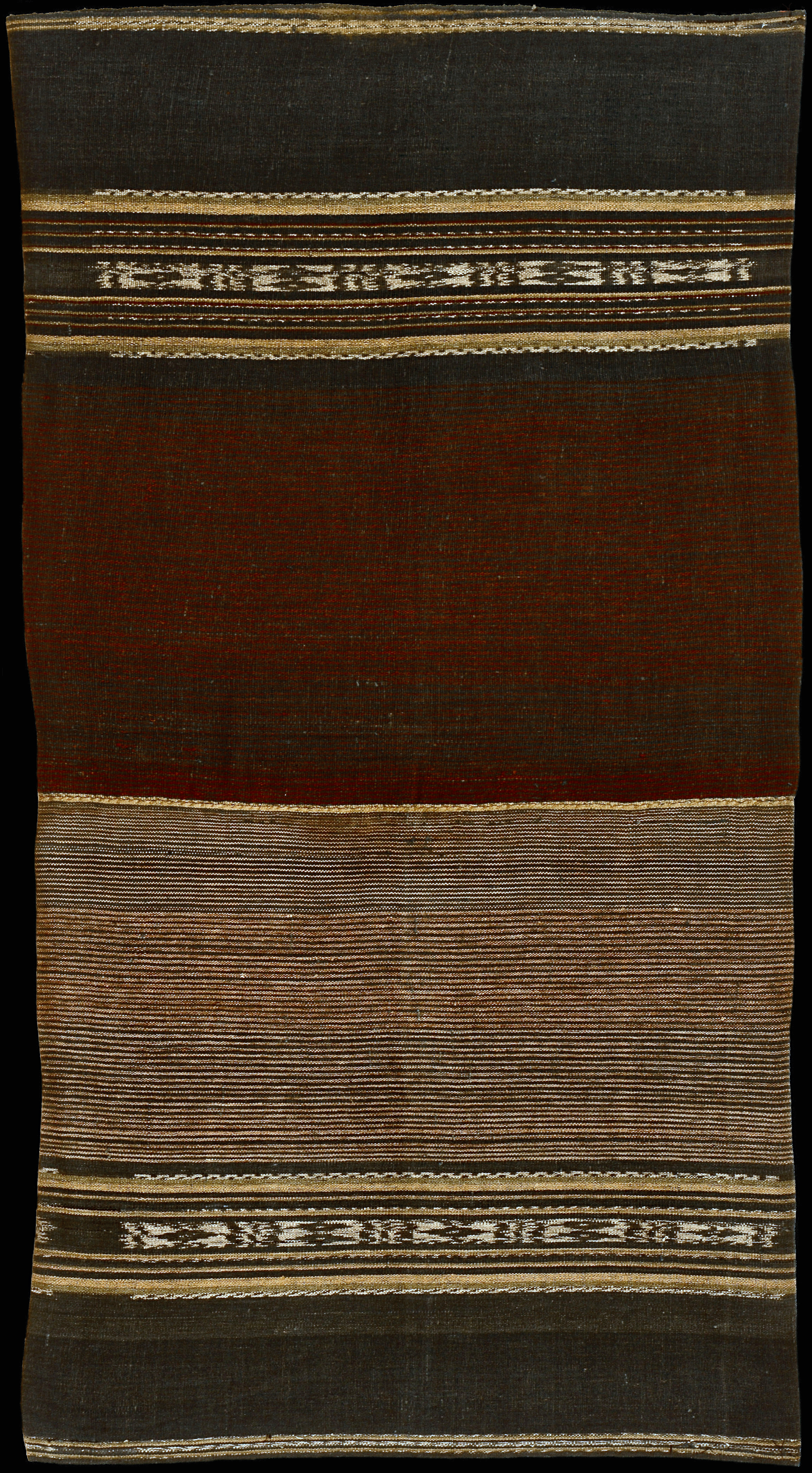 262 Moluccas, Tanimbar




Tais (sarong)




---

Origin:
Moluccas, Tanimbar
Period:
Early 20th c.
Panels:
2
Design:
All handspun cotton, vegetable dyes. Indigo weft. Cloth has a pleasantly rustic feel. A 'pagi-sore' sarong, unlike most Tanimbar sarongs non-symmetrical, the point of it being that it could be worn with either half visible and the other folded over, so that it would appear as if the owner had two different sarongs. It appears to be a transitional piece emulating in cotton the 19th c. bakan made in lontar fibre, which tended to have the same palette. The main motif appears to be the so-called 'flag' in various forms.
Size:
65 x 122 cm (25.5 x 48 in)
Weight:
490 g (309 g/m2)
Yarn:
Cotton, hand-spun, coarse
Comment:
The locally most highly rated type of sarong. According to Van Vuuren: 'Old pusaka sarongs are always of this type.' Though at first glance one would expect a three-panel construction, it is actually made of two panels, with the seam running a little below the middle, just above the wide ribbed section. May be a sarong for the dead - which would explain the paucity of cognates. Ex collection J.B. Lüth.
Background:
Additional information in chapters on Moluccas and Tanimbar.
Compare:
264
Literature:
Similar to tais from circa 1900 in Museum of New South Wales, Accession number 193.2005, except that that example is symmetrical; more similar to top half than to bottom half of our example. Similar also to bakan depicted in Van Vuuren, Ikats from Tanimbar, Fig. 53. Similar to pre-1926 Yamdena sarong in Tropenmuseum, Nr. TM-329-4, though with asymmetric rather than symmetric lay-out. The motifs and palette are similar to those of a sarong for the dead, recorded in Van Vuuren, Fig. 14. Information on societal position and use, Van Vuuren, pers. comm., 2016.



©Peter ten Hoopen, 2018
All rights reserved.