mouse over to magnify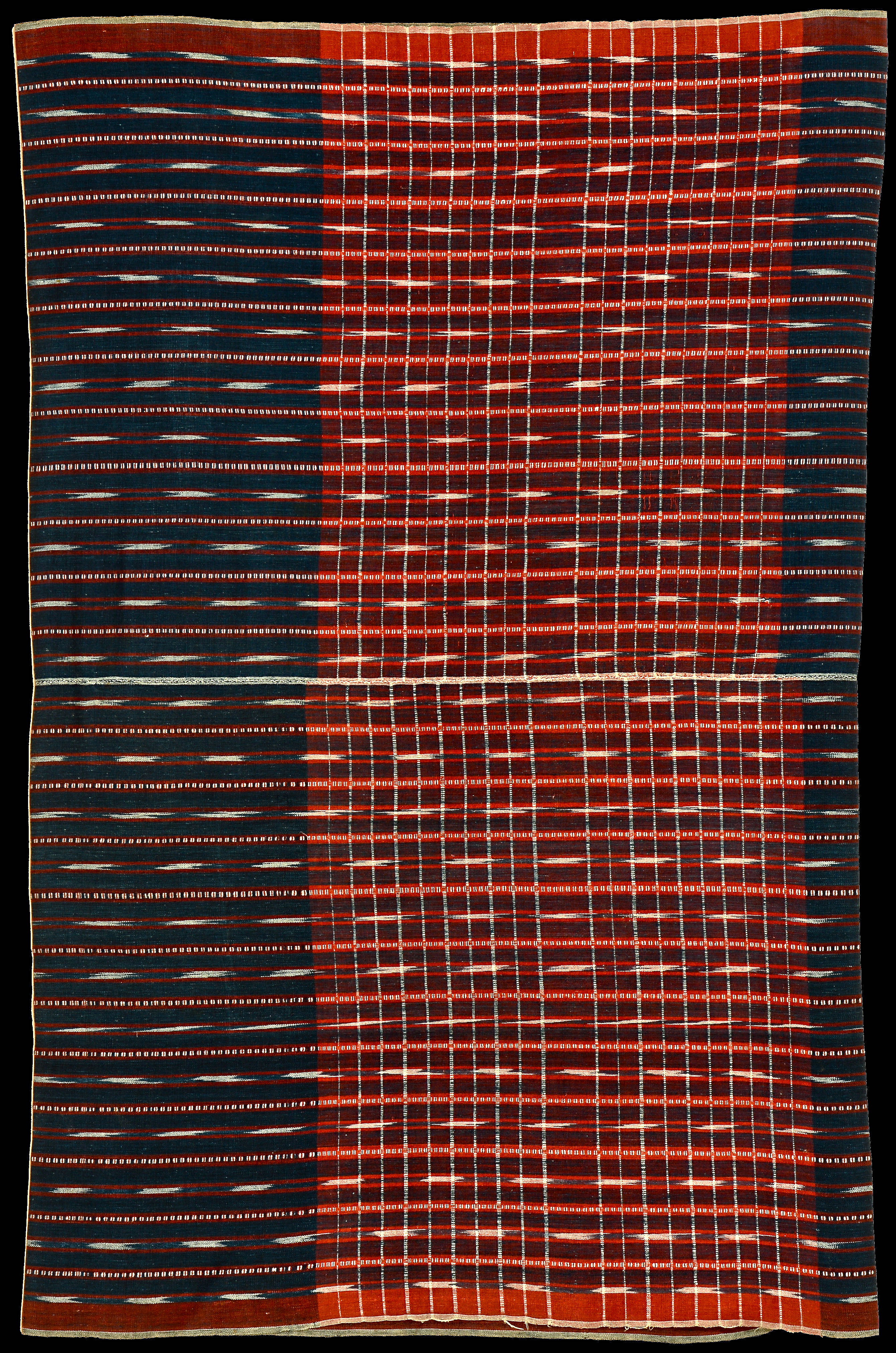 260 Moluccas, Halmahera




Ba'a boba (sarong)




---

Origin:
Moluccas, Halmahera
Period:
Circa 1900
Panels:
2
Design:
Twelve narrow bands per panel decorated with white on indigo ikat offset by red stripes. Only one side, the kepala or 'head', which is worn to the front, has the panel in red, the other, the body, is decorated in indigo only. The warp dashes in this piece are archaic, early ikat motifs similar to those found in the textiles of Aceh, Batak, Pasemah, Bengkulu, Minangkabau, Lombok, Palué, Ili Mandiri, Solor, Lembata, as well as in the narrow ikated stripes separating more elaborate figurative bands found on many other islands. The red kepala is further accentuated by narrow strips in supplementary weft. Note that the misalignment of the two panels is intentional. According to Sahu beliefs, proper alignment would invite serious misfortune.
Size:
75 x 115 cm (29.5 x 45.2 in)
Weight:
445 g (258 g/m2)
Yarn:
Cotton, hand-spun, fine
Comment:
Sarong used for harvest festival. The Sahu people themselves no longer have any idea of the origin of such cloths. Ikats similar to these used to be made on the small island of Buton, off the southeastern tip of Sulawesi. The Butonese were sailors and traders who roamed the eastern islands, and established settlements on Halmahera and the smaller but more powerful Ternate that lies off Halmahera's southwestern shore. The cloths, only a small percentage of which were ikated, then were adopted by the Sahu people of western Halmahera for ceremonial use. As they are agriculturists who supplied the court of Ternate, and also served Ternate's higher classes in other capacities, such cloths may well have been given them as payment. As they differ from old Butonese cloths seen in museums, ba'a boba are likely to have been made to Sahunese specifications. A true pusaka in mint condition. Ex collection J.B. Lüth, who field-collected the piece in 1987.
Background:
Additional information in chapters on Moluccas and Halmahera.
Published:
Brigitte Khan Majlis, Woven Messages. HALI 192, 2017.
Literature:
Depicted in Khan Majlis, Woven Messages, Fig. 323, (perhaps too) conservatively dated '1st half 20th c.'.



©Peter ten Hoopen, 2018
All rights reserved.