Literature on Indonesian ikat textiles
Textile specific
There is a wealth of literature on ikat textiles, much of it published by, or in collaboration with leading museums and universities. Below is a partial list, including most of the works that have come to be regarded as classics of the field.

Information derived from the published or unpublished work of others is acknowledged by the below list of references. Beyond the respective specific sources a body of literature is shared that has informed the Pusaka Collection in another sense: by helping the collector understand the cultural context in which the collected textiles needed to be placed so as to realize their social role and symbolical value; or by shedding light on contemporary conditions on various island communities that impact the way traditional ikat is made or not made.


Ethonology, anthropology, history, and ancillary literature
Below are a few titles that are not textile specific, but do provide valuable ethnological, anthropological and/or historical insights that help understand the cultures in which ikat textiles play an important role.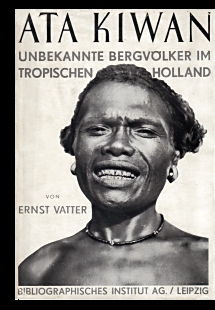 Online resources
In most cases these publications were originally published in print, then digitized and made available online. Where available the original publication data are given, so that a print copy may be retrieved in case a link has gone dead. Please report any dead links through our Contact page.



Anonymous, The Art of Futus, From Dark to Light. Brief but excellent introduction to East Timorese ikat (futus), Unesco supported publication. URL
ArtsCraft Indonesia, Motif Tenun Ikat Toraja. Invaluable page on Toraja iconography. URL used to be http://artscraftindonesia.com/ind/index.php?option=com_content&task=view&id=119, but last time we checked it gave a 'bad host' response.>
Asian Textile Art, Tradecloths. Website of Hong Kong dealer with interesting article on Indian Trade Cloths that places the history of patola in the wider context of Indian tradecloths in general. URL
Barnes, Robert Harrison, A temple, a mission, and a war, Jesuit missionaries and local culture in East Flores in the nineteenth century. Originally published in Bijdragen tot de Taal-, Land- en Volkenkunde Vol. 165, no. 1 (2009), pp. 32-61. URL
Barnes, Robert Harrison, Educated Fishermen, social consequences of development in an Indonesian whaling community, published in Bulletin de l'Ecole française d'Extrême-Orient, Tome 75, 1986. Probably the best report on the Lembata whaling community, of Lamalera, source of magnificant ikat; by a man who spent nine months there. URL
Barnes, Ruth, Thirty-five Years of Textile Studies in Eastern Indonesia. Article in Newsletter No. 28, June 2004, of the Oxford Asian Textile Group. Reminiscences about her first and later visits to Lembata. URL
Johnston, Graham, Radio Carbon Dating. Excellent article on the reasons not to place too much trust in carbon dating of textiles younger than five centuries. URL
Adams, Monni, Classic and Eccentric Elements in East Sumba Textiles. The author is a research associate of the Textile Museum in Washington. URL
Breguet, George, The Life and Death of Tamu Rambu Yuliana, Princess of Sumba. In-depth and close-up article on life and death of the princess of Rindi, and the role of ikat textiles on Sumba. First published in Arts & Cultures, Barbier-Mueller Museum, 2006. Kindly made available by the author. URL
Buckley, Christopher D., Investigating Cultural Evolution Using Phylogenetic Analysis: The Origins and Descent of the Southeast Asian Tradition of Warp Ikat Weaving. Published in PlosOne December 2012, Vol. 7, Issue 12. A thorough investigation of the evolution of ikat styles in the region, based on an analysis of motifs and building blocks of motifs. URL
Coleman, H., Patterns of Culture: The Textiles of Bali and Nusa Tenggara. Published in Ars Textrina (University of Leeds), no. 38, 2008. Gives a good description of the ikat weaving technique, background information on the textiles of the region, and on recent developments impacting production.URL
Druding, Susan C., Dye History from 2600 BC to the 20th Century. URL
Duggan, Geneviève, The Genealogical Model of Savu, a dissertation that sheds light on the Savunese societal structures, such as the matrilineal clans and subclans, and the patrilineal groupings that inform its textiles. National University of Singapore, 2008. URL
Duggan, Geneviève, Personal website. A treasure trove of information on Savu ikat and Savunese culture in general URL
Engelenhoven, Aone van, Epithets and Epitomes, Management and Loss of Narrative Knowledge in South West Maluku, published in Paideusis, Journal for Interdisciplinary and Cross-Cultural Studies: Volume 1/1998. A fascinating article on oral traditions in the region, which includes Lakor, Babar and other ikat producing islands, and how artifacts, such as ikat textiles, served as mnemonic devices, supporting collective memory of traditional narrative. URL
Eng, Pierre van der, De-industrialisation and colonial rule: The cotton textile industry in Indonesia, 1820-1941.Working Paper No. 2007/04, Division of Economics, Research School of Pacific and Asian Studies, ANU College of Asia and the Pacific, 2017. URL
Fitzgerald, Catherine C., Re-weaving The Past: Reviving Textile Traditions In Women's Cooperatives. MA thesis with section on Iban Dayak ikat weaving and attempts at its revival. URL used to be https://portfolio.du.edu/pc/port.detail?id=162668 but last time we checked it gave a 404 error.
Forth, Gregory Forth, Public affairs: Institutionalized nonmarital sex in an eastern Indonesian society, published in Bijdragen tot de Taal-, Land- en Volkenkunde 160, no: 2/3, 2004.
Gavin, Traude, Naming and Meaning: Ritual Textiles of the Ihan of Sarawak. Textile Society of America Symposium Proceedings, Paper 860, 1996. URL
Gavin, Traude, Brief comments on [..] Women's War: An Update of the Literature on Iban Textiles. Traude Gavin's acidic rejoinder to Heppell (see below). URL
Hägerdal, Hans, Cannibals and Pedlars, Economic opportunities and political alliance in Alor, 1600-1850, an attempt to write a history of the Alor group of islands. URL
Hawkesworth, John, Account of the Voyages [..] in the Southern Hemisphere, first published by William Strahan and Thomas Cadell, 1773. Based on the journals of Captain Cook and several other commanders, as well as on those of naturalist Joseph Banks. The chapter on Savu, online version. URL
Heppell, Michael, Women's war: an update of the literature on Iban textiles. A polemical piece on the symbolic and cultural meaning of Iban pua kumbu. While approving some of Traude Gavin's work (see above), Heppell is critical of her alleged misunderstanding of the symbolic and cultural meaning of these cloths. URL
Heppell, Michael, Rejoinder on my late Iban-co author. Answer to Traude Gavin's rejection of Heppell's criticism, defending his stance and his sources. URL
Jong, Dr. Chris de, A Footnote to the Colonial History of the Dutch East Indies, The 'Little East' in the First Half of the Nineteenth Century. Historical and cultural notes on the Southeastern and Southwestern islands. URL used to be http://www.cfgdejong.nl, but last time we checked it gave a 'bad host' response.>
Jonge, Nico de, The Religious Art of the Southeast Moluccas. Provides the cultural context of a number of masterpieces from the Rijksmuseum Volkenkunde in Leyden. URL
Kedit, Vernon, Pua Kumbu: Sacred Blankets of the Saribas Iban. Written by an Iban, great-grandson of an Iban masterweaver, providing information on his family's collection of Iban pua kumbu (illustrated) and critiquing Traude Gavin's interpretations of Iban design. URL
Kedit, Vernon, Restoring Panggau Libau: a reassessment of engkaramba' in Saribas Iban ritual textiles (pua' kumbu'). Debunks Traude Gavin's tenet that anthropomorphic figures, engkaramba, in Iban textiles are of tertiary importantance, and explains that, to the contrary, human figures are so important as to be protected by names that make them seem insignificant. Originally published in Borneo Research Bulletin, Vol. 40, 2009. URL
Knirck-Bumke, Krista, Stripes and Patterns, The Significance of Locality and Social Relationship in Textile Designs in Eastern Indonesia. URL
Murray, Thomas, Red Tapis, an early textile tradition of Lampung Sumatra Indonesia, Hali issue 171. URL (Membership required.)
Nabholz-Kartaschoff, Marie-Louise, The Textiles of Sembiran, Göttinger Beiträge zur Ethnologie, Band 1, Universitätsverlag Göttingen, 2008. Has a small section on very rare old Lombok ikat textiles called anak nene, passed off as Bali Aga cloths by dealers. Interesting for lovers of ikat because very little information on authentic and visually attractive Lombok ikat can be found elsewhere. URL
Niner, Sara, Strong Cloth: East Timor's Tais. Published on site of Craft Culture. URL
Oxford Asian Textile Group. Founded in 1995 by Ruth Barnes with the aim to make the Oxford textile collections more accessible to the public. The Group used to publish a newsletter, and now publishes a magazine. Many issues have dealt with Indonesian textiles, including ikat. All back issues are available online to members, who pay a small fee to support the organization. URL
Somba, Nethy Dharma, Ikat fabric, family self-esteem. Jakarta Post, The Archipelago, 5 May 2012. URL
Thomas, Nicholas, We need ethnographic museums today – whatever you think of their history, Apollo Magazine, 2016. URL
Vuldy, Chantal Vuldy, Un colloque sur les textiles en Indonésie, Summary of colloquium on the state of collections in European museums held in Cologne, 27-30 September 1985. Vuldy notes with a certain degree of alarm how few museums have properly documented their collections of Indonesian textiles. Originally published in Archipel. Volume 33, 1987. URL
VIDEOS. Weavers' Stories made for the Fowler Museum at UCLA. Very beautiful films about the making of ikat textiles and the people that make them.

Special mention must be made of the Tribal Textiles Info website, founded by Pamela Cross to serve as a clearinghouse of information. The bibliography and the online forum, an invaluable resource for collectors, curators, and dealers, are particularly recommended.

For further reading suggestions we recommend the library search engine at the Museum der Kulturen in Basel.