mouse over to magnify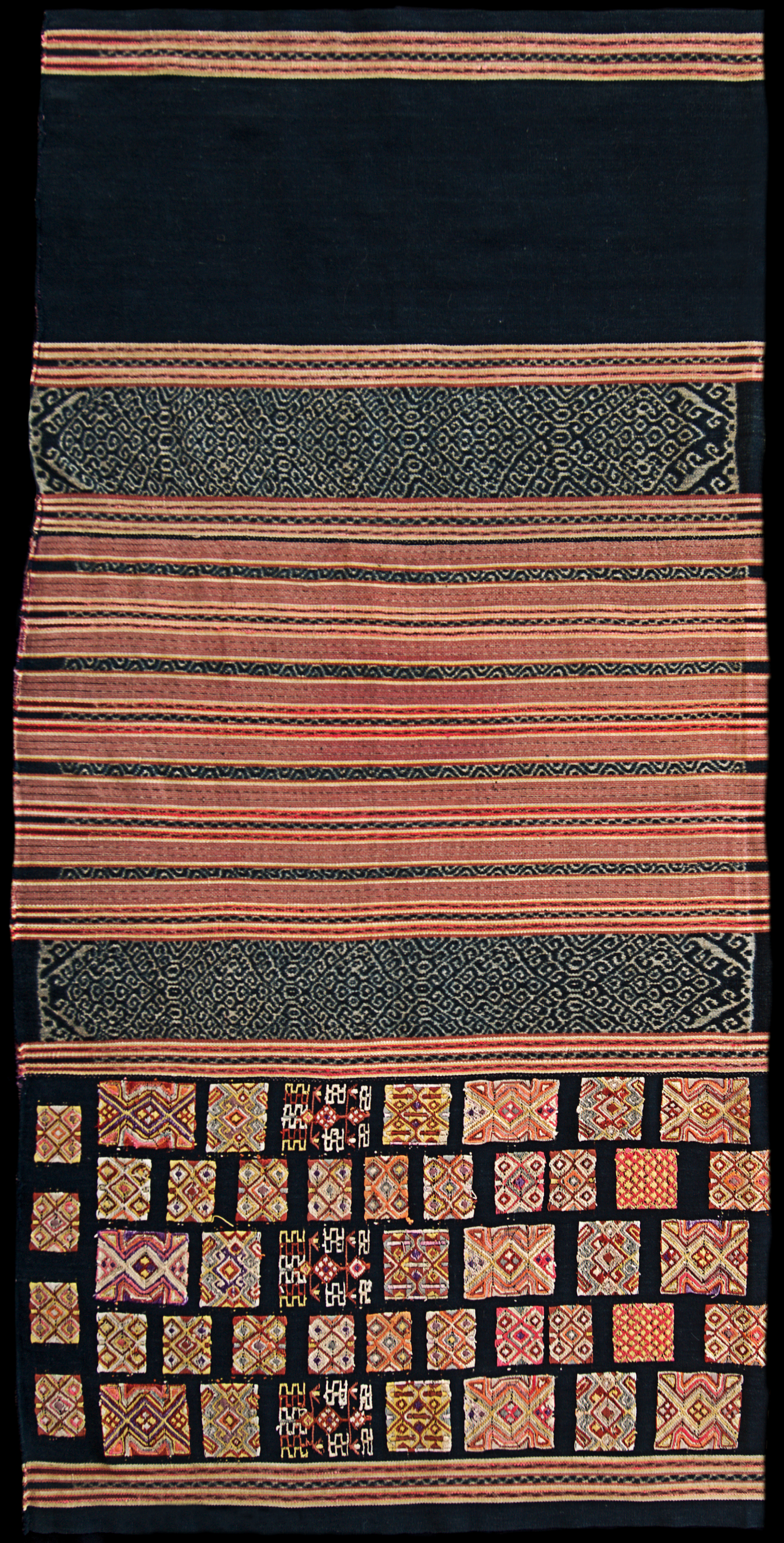 285 Timor, West Timor




Tais (sarong)




---

Origin:
Timor, West Timor
Period:
Early 20th c.
Panels:
3
Design:
Ceremonial sarong, tais feto, opened up, but shown as when sewn. Two wide ikated bands each carry two sets of five makaif motifs in white on indigo that are organically linked. Most of the narrow stripes were also ikated: there are thirteen narrow ikated bands with meanders in white on indigo, and eighteen very narrow ikated stripes, only a few yarns wide, in white on morinda. Futher stripes were done in pre-dyed commercial yarn. Top panel in plain indigo, deeply saturated. The bottom panel is decorated with small rectangles decorated in fine, complex buna with several different motifs. On front and back of the sarong there are more than 80 such embellishments in buna, which seem to have been randomly distributed over the cloth.
Size:
127 x 134 cm (50 x 52.7 in)
Weight:
670 g (394 g/m2)
Yarn:
hand-spun cotton, medium, for the ikated field. Buna in pre-dyed commercial silk.
Comment:
High end example of Timorese weaver's art. The makaif patterns are very dense, requiring meticulous binding, and the saturation of the indigo is deep while there are no traces of dye seepage. The buna as well is clearly the work of a master weaver. The dimensions given reflect the state of the sarong, which was opened up. Comparison of front and back - which used to be the tubeskirt's inside, protected from sunlight - shows that the coral accent stripes done in synthetic dyes lost about a third of their colour intensity, whereas the ikat work, done in natural indigo and morinda, and the buna have maintained nearly all their original colour saturation. Cloth has a soft, old feel, and is in immaculate condition.
Background:
Additional information in chapters on Timor and West Timor.
Literature:
Very similar to tais feto in collection Marta Ostwald depicted in Fraser-Lu, Hand-woven Textiles of Souteast Asia, Fig. 44. Also very similar to one in collection Barbara Johnson, depicted in Yeager and Jacobson, Textiles of Western Timor, Plate 218, which has nearly identical treatment of the linked makaif, but somewhat narrower ikated bands. Similar to example in Khan-Majlis, Woven Messages, Fig. 273.



©Peter ten Hoopen, 2018
All rights reserved.