mouse over to magnify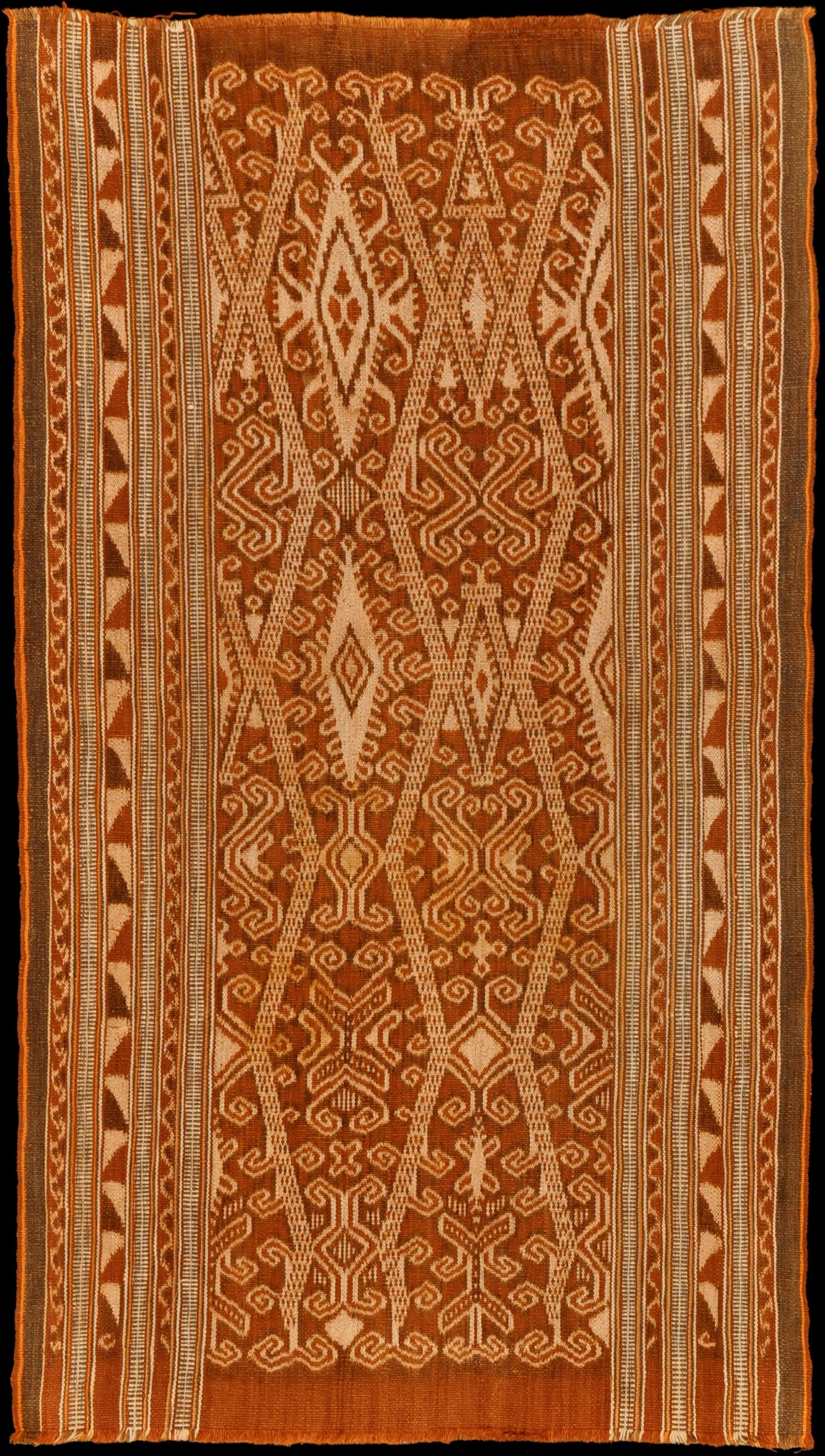 229 Borneo, Kalimantan




Kain kebat (skirt cloth)




---

Origin:
Borneo, Kalimantan
Period:
Early 20th c.
Panels:
1
Design:
Tripartite design, the three identical ikated sections put together in LR-RL-LR order, creating the asymmetric field. Probably shrew motif, based on Haddon and Start, see below. The borders with alternating light and dark triangle are an unmistakable Kantu signature.
Size:
52.5 x 97 cm (20.6 x 38.1 in)
Weight:
195 g (383 g/m2)
Yarn:
Cotton, hand-spun, medium
Comment:
Rare old Kantu skirt with intricate patterning of tripartite construction, name as yet unknown. Extremely finely detailed, some lines consisting of only two threads: one third of an skein of merely six threads. A dozen pinstripes in pre-dyed commercial silk or cotton yarn, only two threads wide, a mark of wealth. Immaculate, 'as new', condition. Identification of Kantu (Kantuk) origin confirmed by Chandra Iban Kantuk. Ex collection Baron Frederic Rolin.
Background:
Additional information in chapters on Borneo and Kalimantan.
Compare:
212 220 230 241 242
Literature:
Similar to Kantu kain kebat in Heppell, The Seductive Warp Thread, Fig. 77 and to one on Fig. 115. Comparable Kantu kain kebat in Amann, Textiles from Borneo, Fig. 86, 87. Decoration of the field similar to that of kain kebat from neigbouring Ketungau on Fig. 89, 90. Tentative identification of shrew motif based on Haddon and Start, Iban or Sea Dayak Fabrics and their Patterns, Plate V. According to Kalimantan expert John Kreifeldt, 'six threads wide is a very, very fine stroke usually only seen in the finest pieces'. [Posting on tribaltextiles.info 24 May, 2004.]



©Peter ten Hoopen, 2018
All rights reserved.