mouse over to magnify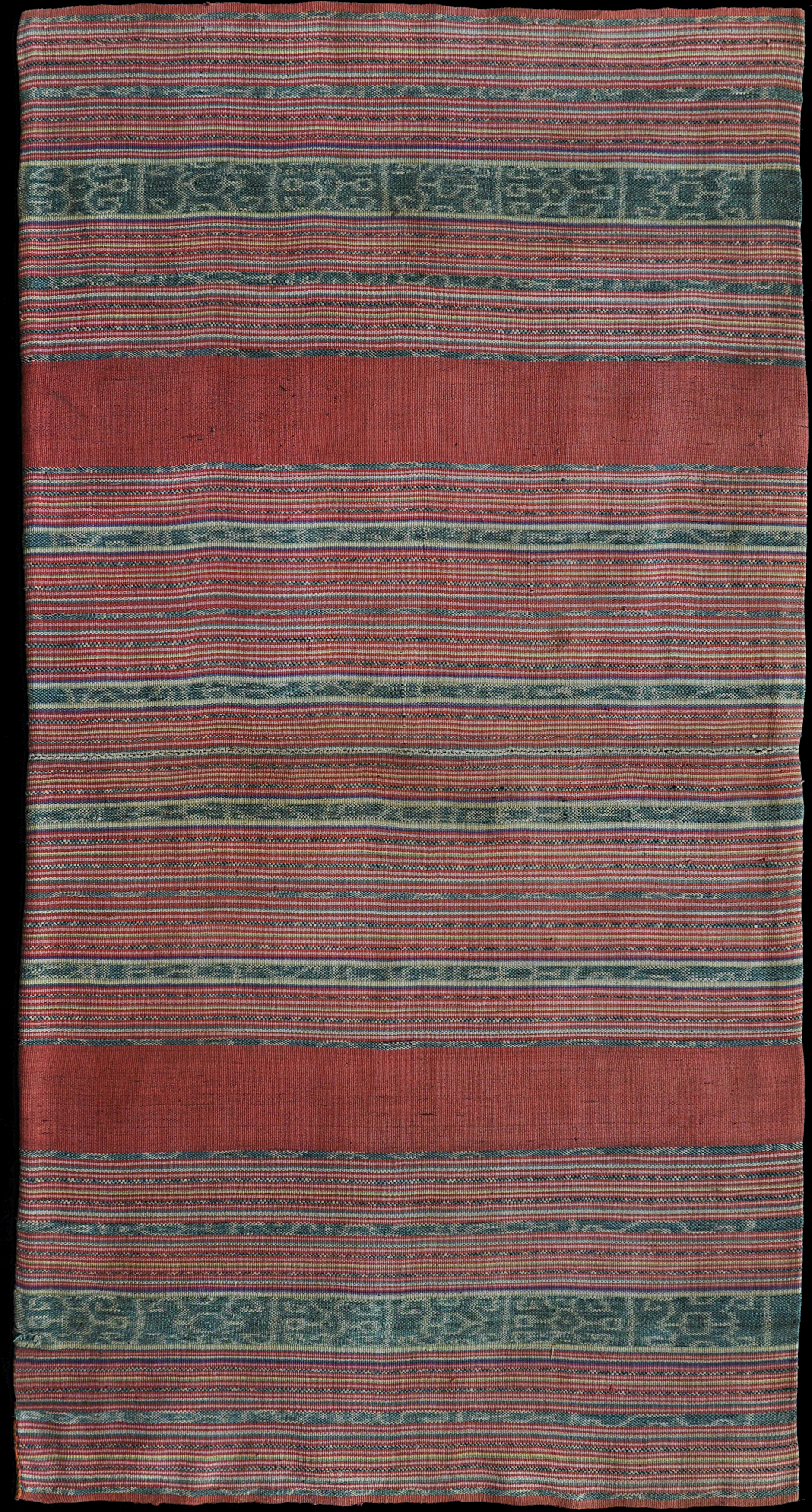 195 Moluccas, Leti




Sarong




---

Origin:
Moluccas, Leti
Period:
1930s
Panels:
2
Design:
Two wider and many narrow bands and stripes with ikat, two wide bands in plain coral red, and numerous stripes in coral red, pink, yellow and green - all faded to a warm pastel tone. Main ikated motifs representing keu, ceremonial bracelets, which in Lautem on neighbouring Timor-Leste indicate high caste and presumably on Leti as well. The bands with the main motifs are bordered by stripes decorated with snakes - which offer protection against the same. Unusual twill weave (clearly visible on the high resolution image - use magnifier), identical to that used on our sarong from Lakor, two islands to the east from Leti in the Leti archipelago. The coral red overall tonality is also very similar to that of the Lakor, as is use of black weft.
Size:
51 x 96 cm (20 x 37.7 in)
Weight:
320 g (327 g/m2)
Yarn:
Cotton, hand-spun and commercial
Comment:
Old sarong either from Leti (or, less likely, from Lautem in far-eastern Timor Leste, at 50 Nm just a day's sailing away). Overall layout and bands in plain coral red are compatible with either. The keu motif with six little curls appears to imitate jilamprang but may also be of local inspiration. Colours faded due to washing, not sun exposure. (Inside and outside alike.) Such sarongs stopped being made around 1930 due to missionaries' efforts to stamp out all manifestations of pagan ways of life. The few that survive tend to be hidden. The bold bands of plain colour are a stylistic effect found on old Leti sarongs and in Lautem, where it is indicative of high rank and called upulakuar.
Background:
Additional information in chapters on Moluccas and Leti.
Compare:
110 248
Literature:
Main motif in the widest ikated bands is identical to that on Leti panel in this collection, PC 248, and similar to that on 19th C. Leti fragment in Tropenmuseum, Nr. 2481-40. It is also similar to motif on a new man's cloth made after old patterns in Pitileti, Los Palos area of Lautem, depicted in Hamilton and Barrkman, ed., Textiles of Timor, Fig. 11-8. Some similarity to early 20th C. Leti textiles in Tropenmuseum, Nr. 48-57, 48-254 and 238-39. Also similar to PC 110 from Lakor in Leti archipelago. The way the main motif is bordered by stripes with snakes is also seen on Babar, e.g. in 288. Likely Leti provenance confirmed by the linguist and Leti clan descendant Aone van Engelenhoven.



©Peter ten Hoopen, 2018
All rights reserved.