mouse over to magnify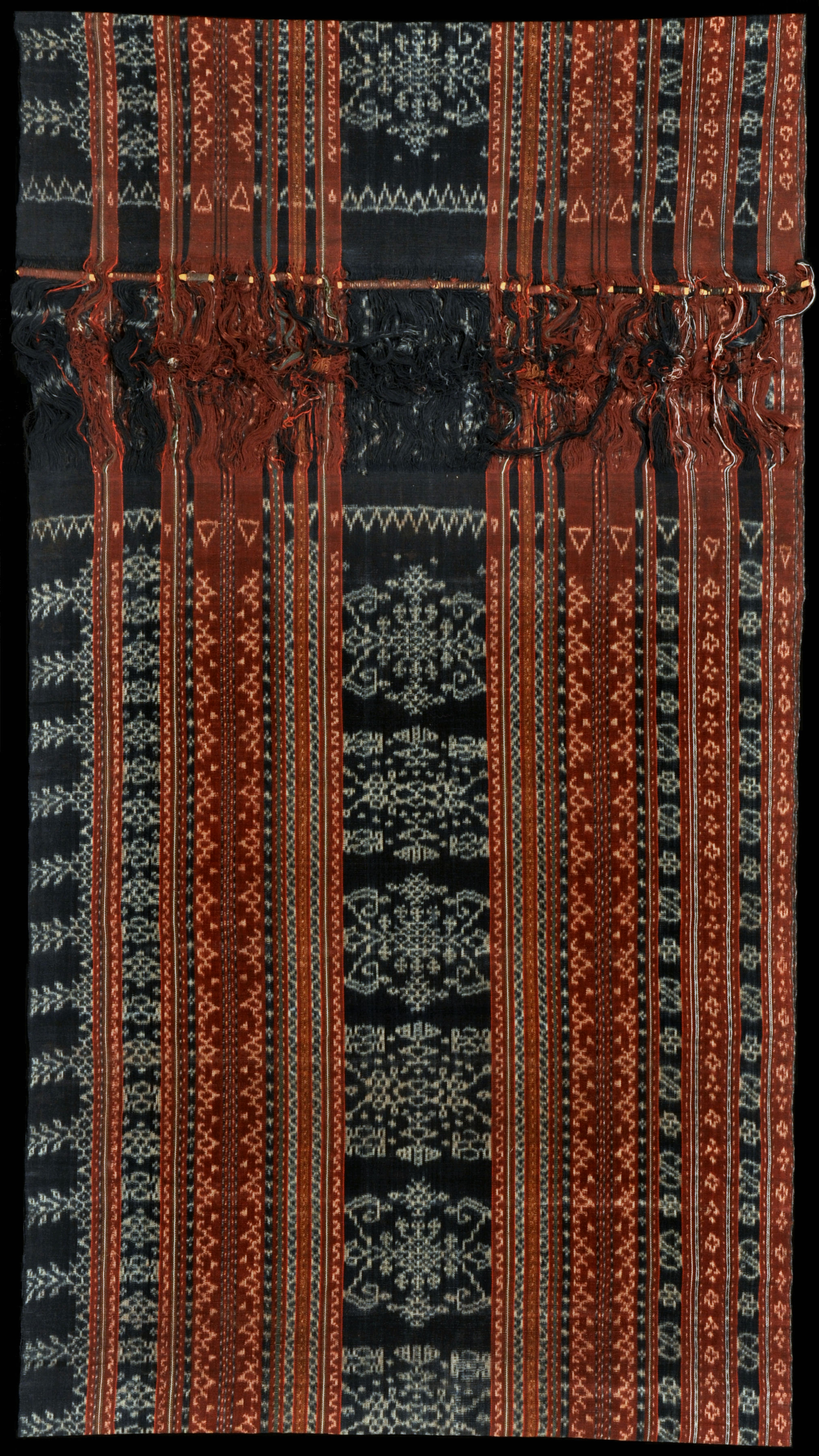 051 Flores Group, Sikka




Utang (sarong)




---

Origin:
Flores Group, Sikka
Period:
1925-1945
Panels:
1
Design:
Cloth for utang, sarong, of the type utang mitang, as overall impression is more 'black' than 'red'. Main ikated band decorated with large medallions, probably patola-inspired; but creative, not just copies of jilamprang. Lively, original designs in white on indigo, that radiate zest for life and confidence. Bands of small geometric designs in white on indigo, and in white on morinda. Pinstripes in warm yellow, red, green and light blue. All patterns consist of tiny individual design elements that require a vast number of tight binding to create.
Size:
80 x 270 cm (31.4 x 106.2 in)
Yarn:
Cotton, hand-spun, very fine
Comment:
A mature weaver's example of the style, representing the high end of 20th c. Sikka ikat. Cloth is as it came off the loom. Virginal: warp threads uncut. Skeins of threads still on their wooden separators. Starched. A few pinstripes in benang toko, the rest all handspun, tightly woven. Yarn type verified by microscope. Maumere lady who sold the piece stated that it had been kept by her family as a heirloom for generations, stored in a closet, never used. According to Hamilton this is the common Sikka practice for the cloths that are considered of the highest value.
Background:
Additional information in chapters on Flores Group and Sikka.
Published:
Peter ten Hoopen, Woven Languages, 2014, Carpet Collector 2/2016
Compare:
050
Literature:
Very similar to cloths for sarong in Khan Majlis, Indonesische Textilien, Wege zu Goettern und Ahnen, Fig. 390 and 394 and cloth from 1930s on Fig. 389 (also virginal), all in Rautenstrauch-Joest Museum. Similar in overall design and main motifs to sarong from before 1929 in Ernst Vatter collection, depicted in Barnes, Ostindonesien im 20. Jahrhundert, Page 158, Kat. Nr. 98. Also similar to Hamilton, Gift of the Cotton Maiden, Fig. 7-11 identified as utang mitang; and somewhat similar to pre-1940 sarong in Tropenmuseum, Nr. 1772-1142, the main difference being that in our specimen the ikat decoration is more prominent. The jilamprang-like motif and general appearance are also very similar to pre-1910 selimut in Tropenmuseum, Nr. 6207-201.



©Peter ten Hoopen, 2018
All rights reserved.